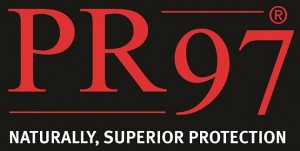 The Bruck range of PR97® is an internationally recognised brand and aleading range of protective fabrics available for the hot metals industry where secondary or everyday protection from molten metal splash, flame, ignition, radiant and convective heat and electric arc hazards is required.
PR97® is a blend of natural fibres – Merino wool and Lenzing FR®. The flame resistant properties of PR97® are manufactured or 'built-in' to the FR viscose fibre, which means the fabrics protection cannot diminish over time through washing or laundering; unlike some treated or chemically coated products where their protection can diminish through use.
The main benefit of PR97® is its superior molten metal splash protection against a variety of metals including aluminium, cryolite, iron, steel, copper, magnesium and nickel.
It provides personnel in the molten metal industries with the following benefits:
1. Uncompromising Safety
Inherently flame retardant with 'built-in' protection that cannot be laundered out.
Outstanding splash protection against molten aluminum, cryolite, iron, steel, copper,magnesium & nickel.
Excellent protection against electric arc.
Protects against exposure to radiant & convective heat.
2. The Cost Effective Safety Solution
Multi functional applications can be used from the pot room through to re-melt, casting, rodding, electrical and maintenance areas.
Easy care option, it can be wet laundered or dry cleaned allowing for a flexible garment /inventory management program.
Inherent or "built in" protective properties, providing a consistently high level of protection throughout the entire service life of a garment.
3. Naturally Comfortable
Its blend of natural fibers and innovative construction has the ability to effectively wick sweat and vapour away from the skin, facilitating the cooling process.
In the absence of any chemical FR coatings, the fabric has the ability to breathe whichallows air to circulate freely without jeopardizing the protective integrity of the garment.
The innovative PR97 Ultra™ fabric provides additional protection at lighter fabric weights for improved comfort.
4. Proven Performance
By specifying PR97® you are providing your personnel with a product that offers the highest standards of health and safety in secondary protective work wear.
Since its launch in 1997, PR97® has successfully provided well over 70 million man days oflife and burn protection in some of the most demanding work environments in the world.
The standard by which all other protective fabrics are judged. Our dominant position as metal splash protective clothing of choice in the potentially dangerous environment of the world's smelters is testimony to the long term protective qualities and superb wearer comfort that PR97® provides.